Food and Public Distribution Department of Government of India have launched Mera Ration App" mobile app, it will be most useful for cardholders of other states. That means the ration cardholders of other states will be able to take ration from the nearest government ration shop in the area where they currently reside. Because according to the One Nation One Ration Card Scheme, any ration cardholder in the country can take his share of grain from any ration shop anywhere and in the country.
This Mera Ration App will help you to identify government ration shops, check the details of your quota, and get information about recent transactions. So that a beneficiary will know exactly what he has to get and which is the closest to the ration shops running under the Public Distribution System (PDS) around him.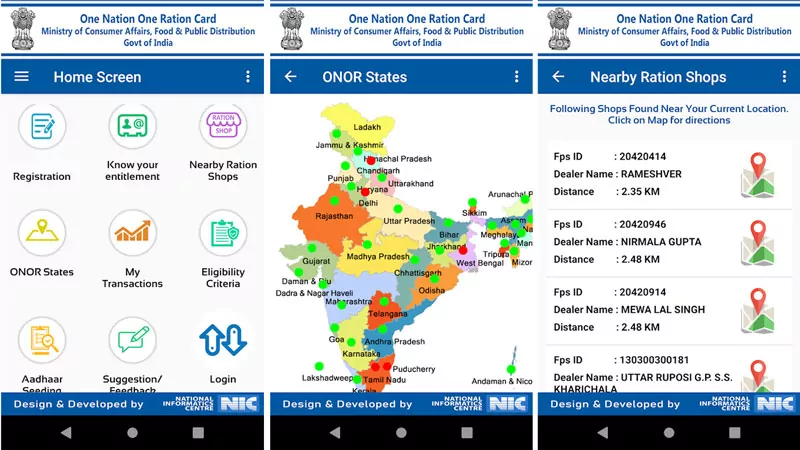 On this App, ration card holders beneficiaries of the National Food Security Act (NFSA) will be able to check for themselves how much grain they will get. This Android-based mobile application developed by the National Informatics Center (NIC) is currently available in Hindi and English and gradually. It will be made available in 14 other languages. The government says that Mera Ration App will bring transparency to ration distribution.
Where does the One Nation One Ration Card Scheme apply?
One Nation One Ration Card Scheme has been implemented in 32 States and Union Territories across the country. One Nation One Ration Card Scheme will be implemented soon in the remaining states as well. Although the deadline for this will be implemented across the country, 31 March 2021, but the One Nation One Ration Card scheme has not been implemented in West Bengal, New Delhi, Assam, and Chhattisgarh.
When the ration cardholder goes to another city or state, he can register himself on the Mera Ration App and give this information in which state or city his name is associated with. And from where he wants to get the ration, he can request to get it, in such a way it will be easy for the beneficiaries of other states to get their share ration from the nearest ration shop at their destination.
Benefits of 'Mera Ration App' app
With the help of this app, ration card beneficiaries can check themselves how much grain they will get.
With the introduction of the 'Mera Ration' app, people will know how much rations they will get, which will bring transparency in ration distribution.
The people of this state will be able to benefit from this app, especially through this app, it will be easy to know which ration shop is closest to them where they are staying.
Download Mera Ration App from here
To download App, you will have to go to Google Play Store and search by writing Mera Ration, after which it will be mailed to the app, which will have to be installed. If you are unable to get the official App, then you can download it by clicking on the link given below.
Registration will have to be done after downloading. After which, wherever you want to take ration, you can migrate to it and apart from this, more is given in this app, which can be learned by watching the video given below.